A few weeks ago, I finally launched emojination ↗ on ProductHunt ↗ 🚀. It has been 4 years since my last launch and 7 months of part-time product work. The launch was Dec 9, 2021, and two days later, I went on a two-week winter vacation 🌴.
This is a two part series. In part 1, I will discuss why I chose to launch emojination, and in part 2, I will discuss the launch itself.
TL;DR - Why Launch?
Forcing function - it made me answer many hard questions.
SEO - it helped me rank higher on google.
Partnerships - it introduced new opportunities.
Blog / Media Coverage - it helped other bloggers discover and share my work.
Idea validation - it helped motivate me to keep going.
Dedicated time to chat with friends - a good excuse to reconnect.
Background
Initially, I wanted to spin the entire product and marketing in a single weekend. The thinking was to make many micro products like this and see which gets traction.
After one weekend, I had a simple (yet ugly) product to share with friends. I kept building and sharing my progress on Twitter #buildinpublic.
Four months later, Emojination had ~80-100 monthly visitors. Meanwhile, PictureThat ↗ -- a product I launched in 2017 -- had ~300-400 monthly visitors. One month prior, I was getting discouraged. Until, out of nowhere, I got my first paying customer 🤑.
Why Launch?
A month later, I posted a goal to launch on PH by December. My objective was to determine what to focus on for 2022. I wanted to give Emojination a fair fighting chance.
Those two months were mostly spent figuring out branding, talking to customers and trying different messaging. They went by fast!
I knew the product and messaging both needed more work. Then on Dec 1, Dagobert posted this tweet:
I wasn't quite ready. I was starting to feel burnt out and in need of time off. Creating and launching three other projects in addition to Emojination took a toll.
Still, I got better with each project, so I decided to set a date and prepare for the launch. As a bonus, I already had a vacation planned right after.
As I started prepping, I discovered many other significant benefits.
1. Forcing Function
Preparing assets for the launch made me re-evaluate my marketing message and update it. Twitter became a great sounding board for feedback on WIP marketing assets.
The time pressure made me try new video design tools to create a good introduction video. I failed miserably at it. Video products like Lumen5 fall flat. They simply did not have templates for SaaS product videos launches.
The primary product funnel for Emojination became crystal clear.
Select template.
Customize emojis, message, colors, etc.
Share/Download the resulting image.
2. SEO
Emojination had almost 0 search traffic. Why? Because I never focused on SEO and creating backlinks. Product Hunt linking back to your product is a solid signal for google to bump up your ranking.
3. Partnerships
The launch will give you exposure to new people who might be interested in partnering with you.
PictureThat received a few such offers, and while nothing came of it, it was great to learn about the possibilities.
4. Blog / Media Coverage
You will also get exposure to smaller blogs that write about new exciting products in their niche. These will strengthen your Google ranking and send new traffic from unexpected places in the world.
A few months after PictureThat launched, a journalist from the New York Times reached out to me for a piece about Buying Art Online. It was incredible to talk to a reporter from such an iconic newspaper 🤩.
You can't bank on it, but if your product is new and exciting, it might be worth writing about. For emojination, it might be a piece about cool new ways of using emojis.
5. Idea validation / support
Building a product can be lonely. Getting new users who see the product for the first time and get excited is an incredible motivator.
6. Dedicated time to chat with friends
I was excited to have 48 hours blocked off on my calendar to talk to hundreds of friends. Having an excuse to say, "Hey, just launched this, btw, how are you?" is a great way to catch up quickly, without feeling guilty I'm slacking off. It is work :).
When Do You Launch?
In short, as early as you can. Having an engaged audience would help tremendously. For me, this meant getting serious about Twitter. From May to October, I grew 400 => +1000 followers.
Interestingly, when I launched PictureThat in 2017, I didn't have an audience. The product did even better than this launch (as you will see). Maybe it was beginners luck? Or perhaps a better product more aligned with the AR trend in 2017? I don't know. However, I'm sure that having an engaged audience would have helped it do even better.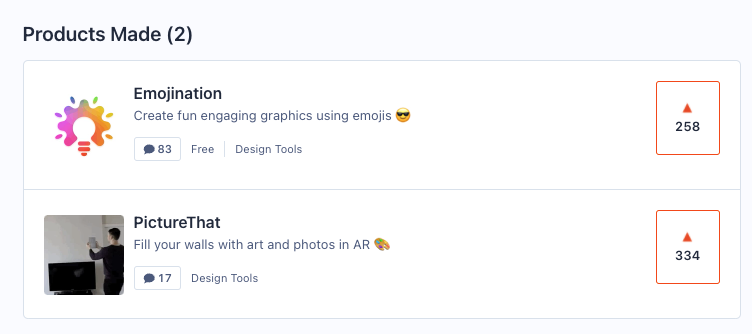 Conclusion
Hopefully, you are now ready to take the leap and launch your product! 🚀
If you are, or just want to read the rest of the story, head over to Part 2: How To Launch On Product Hunt.
(Please drop me a mention or DM on Twitter ↗ when you launch 👋).