A few weeks ago, I finally launched emojination ↗ on ProductHunt ↗ 🚀. It has been 4 years since my last launch and 7 months of part-time product work. The launch was Dec 9, 2021, and two days later, I went on a two-week winter vacation 🌴.
This is a two part series. In part 1, I discussed why I chose to launch emojination, and in part 2, I will discuss the launch itself.
TL;DR - Steps to a successful launch
Announce your launch 1 month in advance with the exact date & time.
Define Launch Success -- Target an upvote count.
Define Product Success -- Make sure you are measuring a primary product funnel.
Give them a deal.
Remind your audience about the launch, 1 month, 2 weeks, 1 week, 3 days, 1 day, 1 hour, LAUNCH 🚀. (use a social media scheduling tool like Threadstart/Feedhive)
Preparing for Launch
The prep work for the launch was quite stressful. A lot of it had to do with fear of the unknown and failure to validate an idea I worked on for the last seven months. Thus launching sooner will feel like you have less to lose.
1. Define launch success
First, I defined a few quick goals and announced them on Twitter.
In retrospect, I should have announced 400 upvotes as my target in 24 hours. In other words, better than the ~300 votes PictureThat got.
I also wanted in-depth feedback, which was one too many things to ask for. On launch day, I already ask for: Checkout my PH page Visit my site and upvote if you like it. Help me spread the word to others by re-sharing.
My extra ask only added friction and largely vague first impression feedback.
Think of the launch as an election day. You don't ask the voters what they think of your policies. You just ask them to go cast a vote.
Politicians have a tool called early Polls. As makers, we have a tool called Customer Interviews we should use. Make sure to use that tool.
2. Define product success
I was so busy thinking about upvotes and getting more exposure that I totally forgot about defining and tracking the product's success.
"Love to hear what you think"
Instead of asking for feedback in my initial message, I could have just asked to check it out and prompted them for anonymous feedback inside the tool. iOS and Android apps typically ask for feedback on the AppStore after usage.
In addition to qualitative feedback, set up a Mixpanel funnel to track product success.
as follow: 1. Visit Home Page => 2. Selected a template => 3. Customized template => 4. Shared/downloaded graphic. This funnel would have meant they got value out of the product and served as a good baseline for future areas of improvement.
Timing
Two days before I launched I announced the time and goals. The launch was scheduled for a Thursday right before I went on vacation to recharge. I knew Thursday was competitive but decided it was the right day as it gave me enough time to prepare.
Looking back, it would have been better to determine that two weeks before and do drip post-campaign as follow: 2 weeks, 1-week, 3-days, 1-day, 1-hour before, launch. This would ensure maximum visibility. Maybe even start 4-weeks prior.
Do you need a partner? Or Can you post it yourself?
ProductHunt has a maker and a hunter role. The same person can serve as both the maker and the hunter. The decision who should post it comes down to who has the most reputation points and recent activity.
You can check your reputation points on your profile page. You can also see the reputation points of other members by viewing their profile page.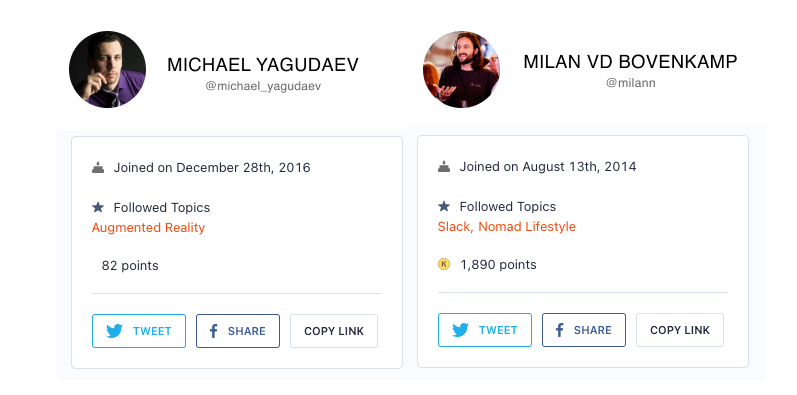 My reputation on PH is only 82 as you can see, whereas Milan -- who helped me launch PictureThat back in 2017 -- has 1890 points and over 1000 followers.
Remember, they can say no. It might not fit the portfolio of products they hunt and are excited about. That's ok, your product isn't for everyone. Try someone else.
Why do reputation points matter? When posted, PH will total the reputation points of all those who voted so far in the 24 hour window to rank your posting on the front page.
If your product makes it to the front page, all the followers of the hunter + maker will be notified via email they launched a new product. Naturally, this will translate to more views.
Update your profile
One thing I forgot to do is make sure my maker profile is uptodate. I was so focused on the product page that it never occurred to me to check.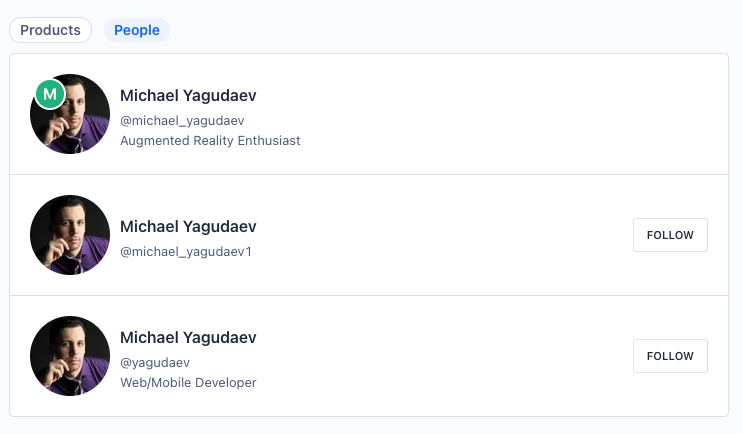 Since I have been on PH since 2016 I have 3 accounts. Only the first account is active, the other two were social logins or used a different email. This is unnecessarily confusing and I should have closed those accounts.
Sadly, I only found out about it during the launch when someone mentioned it. By that point it was too late and I was too busy to do anything about it.
Research other successful launches
Over the months leading up to the launch I read the different best practices and experiences of those who launched.
However I did not do a systematic review. To help you with that, the end of this article aggregates many different launches from 2021.
Media assets
It took about a day or so to prepare all the static image assets and write a clear message. Twitter was a huge help to help me iterate on copy and design.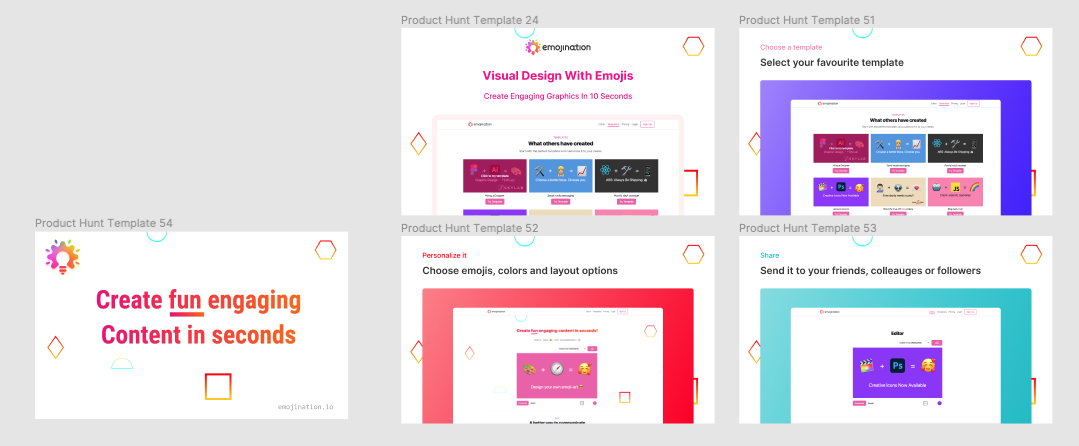 To help me get started I used a stunning template set called Phigma ↗.
I also create a GIF using Keynote for the square product preview image.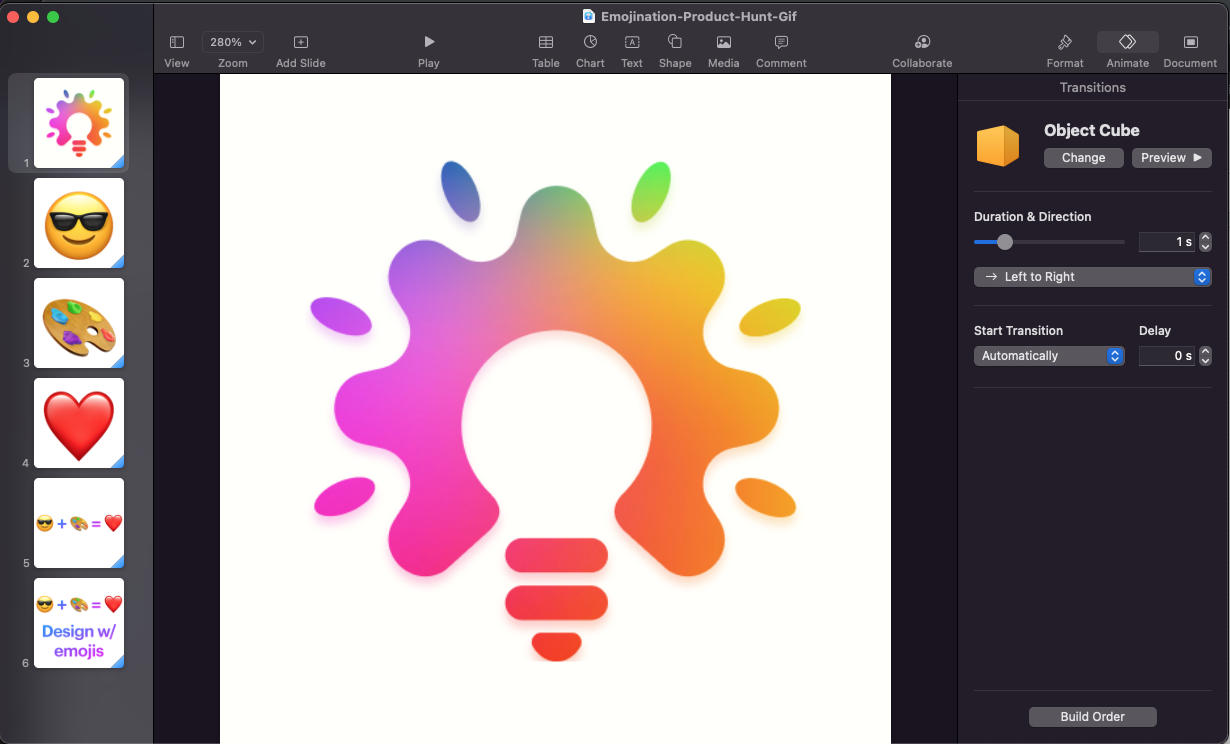 I also tried to create a video using Keynote, but I couldn't get it to look quite right. Tools like Lumen5 and Promo don't have great templates for digital products.
In the past, we used a template for Premier / After Effects and I was lucky to have an intern who could edit it for me. It seems it is still the way to go, you can search for "Website Promo" or "App Promo" on VideoHive for great looking templates ↗. Remember to leave plenty of time to edit the video, it will take time.
It might be worthwhile getting a template you like and hiring a video editor on Upwork/Fivver/etc.
Schedule Social Media Posts
The last step was to schedule a post at midnight 12:01am the day of the launch announcing the product.
I used Feedhive to schedule on Twitter (+ auto retweet 12 hours later) and Linkedin. For Facebook and Instagram I planned posts, made a quick graphic for an instagram story updated and updated my bio-link.
I should have also done an instagram post, not just a story. You can always delete the post later.
Outreach list
For the most part, I decided to just wing the outreach. I knew I would start with the Twitter friends in Europe and on Facebook and Linkedin focus on those already online.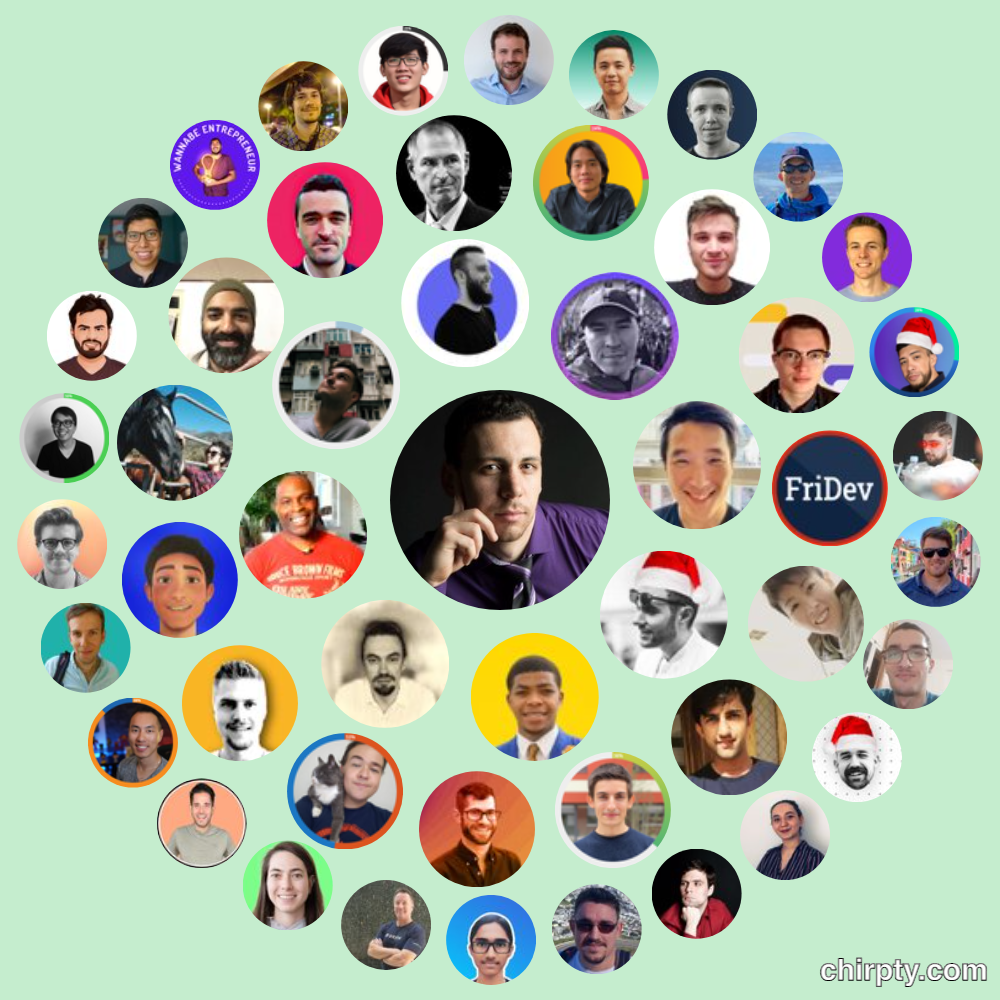 What I failed to consider is that not everyone has a ProductHunt account. If your friend does not have a PH account and you ask them to checkout the product, it creates friction. If they are busy they might see your product, try it and think "ok I'll register later", then forget about it. Remember you only have 24hours to get the ball rolling and be featured. Being featured and ranking high close to the top will improve the app visibility and you will grow upvotes / traffic faster.
It would be amazing if there was a tool that found the intersection of friends from: Twitter, Facebook, Instagram, Linkedin that are engaged with your content, are online and have a product hunt account. This will give you a priority list of who to contact first.
You want to get the momentum going.
You can manually make a list like that on Notion, Airtable or even Excel. I was too lazy.
There is a tool to find people you follow on twitter on ProductHunt: http://followmaker.co/ ↗
Launch Day
Outreach
I looked at who was available online at 12:01am I started with Facebook and linkedin
Results
⏱ First 24 hours
🚀 Position 12th
🗳 Upvotes 222
🚦 Traffic 361
👤 Signups 7 (no signup required to use)
💰 New paid users 1
The most crucial feedback was: "what does it do? I don't get it." -- clearly, the copy needs work.
> 1 Week later
Monthly Views: ~1000 (+500%)
Tried Product: 136 (~13% of views)
Signup users: 15
New Paid Users: 1
PH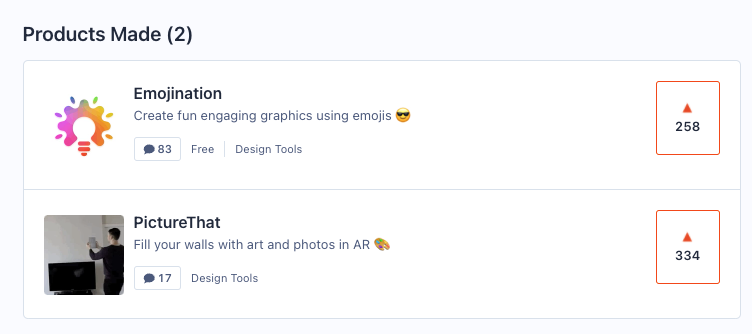 Social channels
Twitter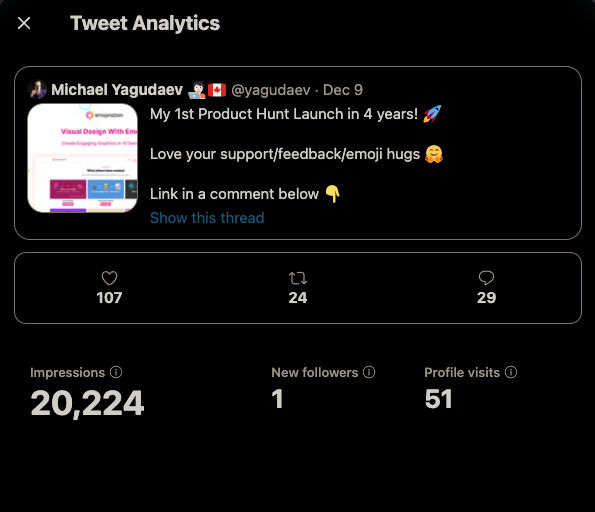 Linkedin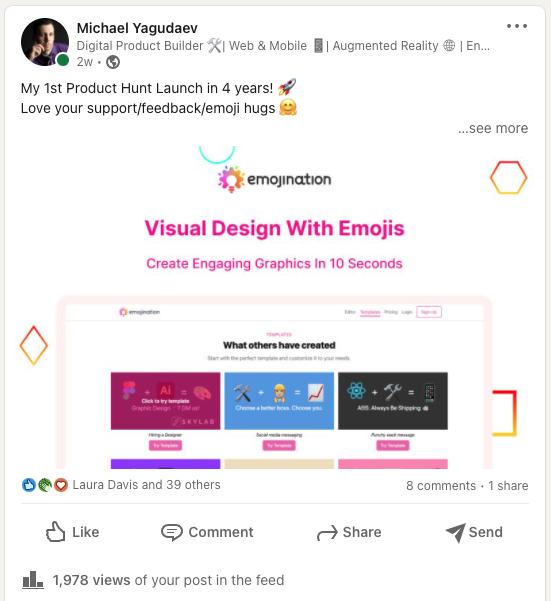 Facebook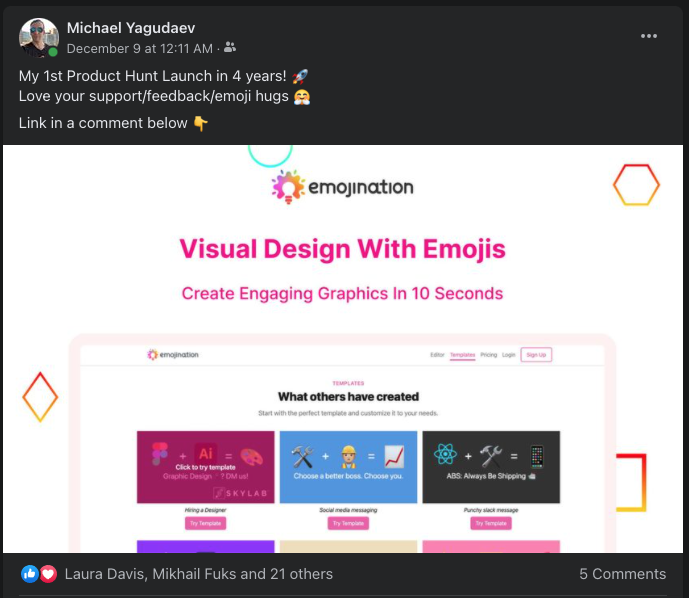 Traffic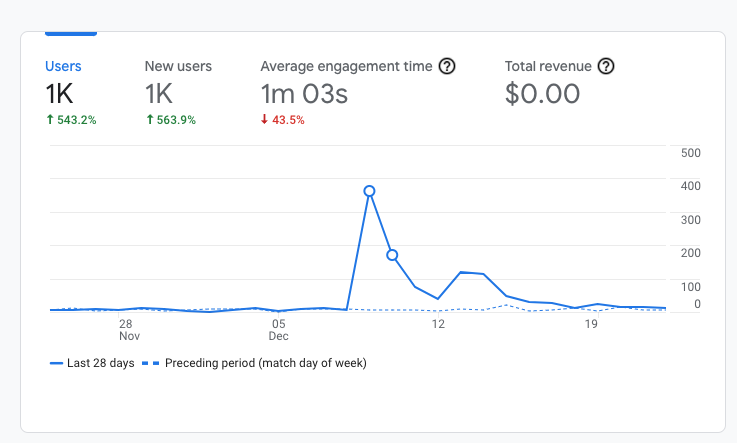 The top country surprisingly turned out to be China 🇨🇳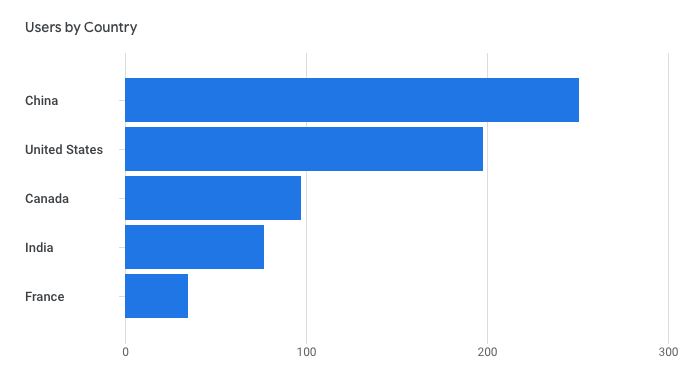 SEO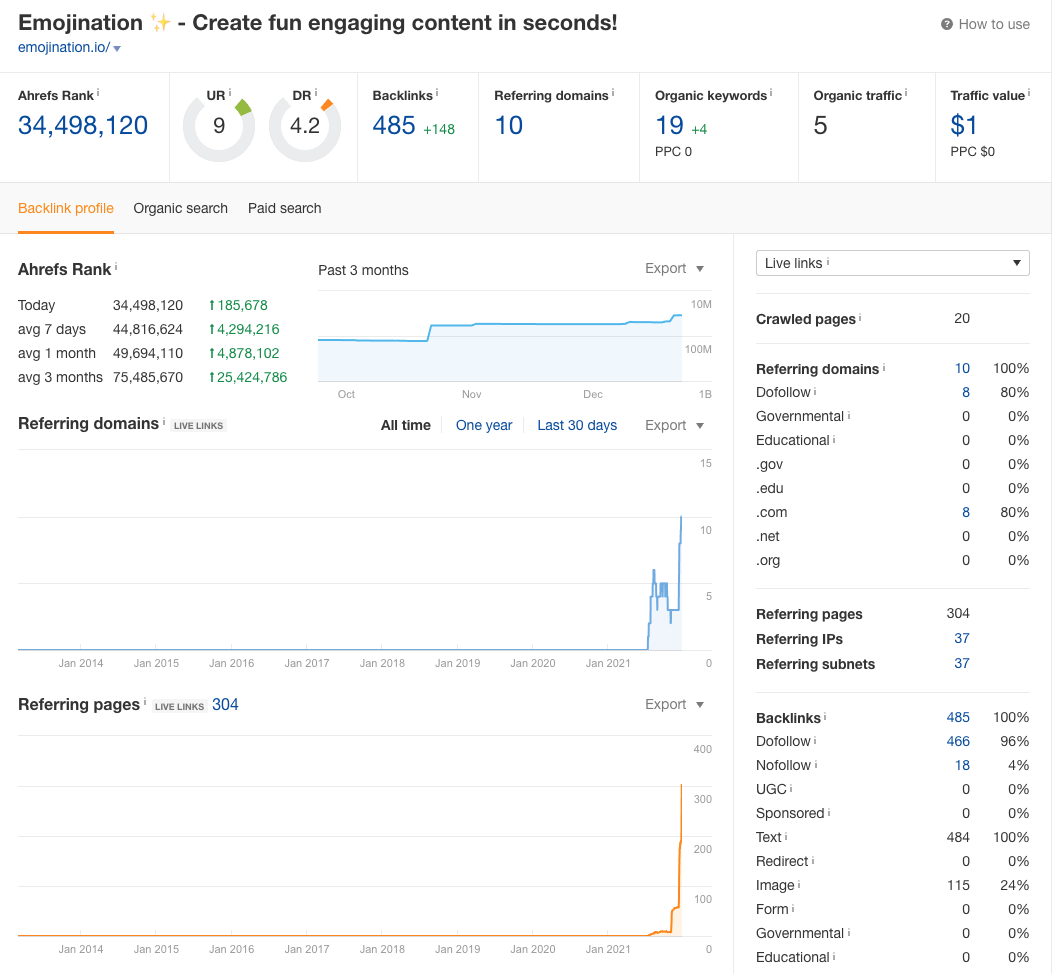 Conclusion
Is it worth the effort?
Improved marketing message
Resources
Pre-Launch
Curated Lists of Launches
Curated List of Producthunt Launch Resources ↗
Tools
Follow Maker - Find your Twitter Friends on PH ↗
Checklists
The Producthunt Launch Checklist ↗
Official: How to Launch on Product Hunt ↗
Know the Best Time to Post on Product Hunt ↗
​​How to Launch Successfully on Product Hunt ↗
Announcements
More Examples
Outcomes
Twitter
Blog
Stats of Coding Font Launch - wentin's newsletter ↗
Learnings from launching Odet on Product Hunt ↗
On product hunt
A complex offering with a great video example ↗
Post ProductHunt Launch
Stay calm and keep launching
Relaunch like a pro: 100+ places to launch, relaunch, and list your product ↗